X-Box A New Generation Revealed Live Blog
---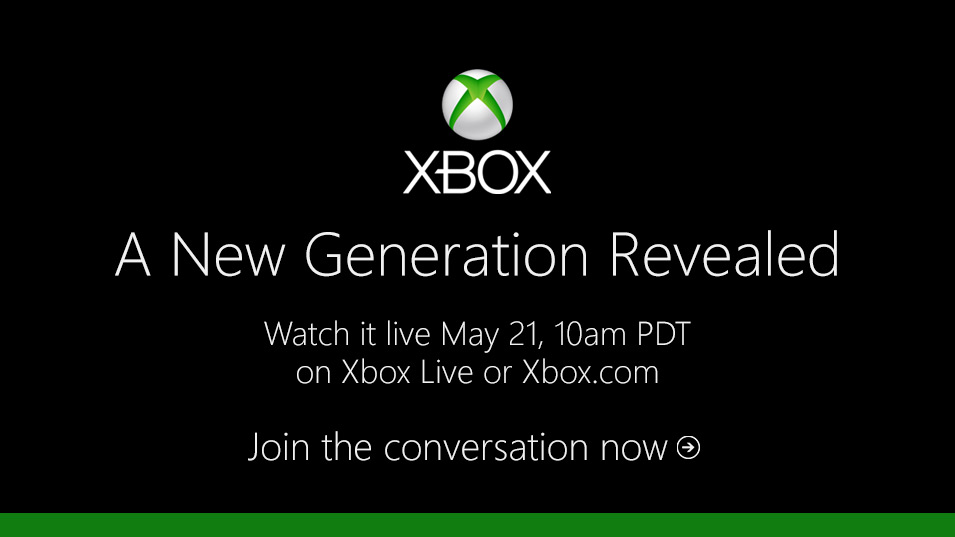 Hello questers!
In a few short hours we will start our coverage of the revel of the new X-Box!
There are a flood of rumors circulating about this device, and we'll know which ones are true soon enough.
Join us at 12 Noon Eastern Time for our live blog of the event.
You can also follow us on twitter and facebook where we will also feature regular updates.
-E
02:21pm by Eric
That was. . . well, short.
I was expecting more. The event ran just over an hour long.
We learned that the Xbox One is focusing on making everything about it's system as simple as possible. It appears to also have a massive focus on sports and live TV, especially considering the new Fantasy Sports features.
The presenters very briefly touched on the hardware specs, while shifting quickly to the device that sets the console apart from it's competitors, the new Kinect.
From what I was able to see the Xbox One will have 8GB ram, and 8 Core CPU, 500GB HDD, Bluray player and 5,000,000,000 transistors. The new Kinect can recognize players by voice, and load up their personal profiles simply by hearing them speak. Kinect can also capture 1080p vidoe, and transmit up to 2GB of data per second to the Xbox One.
One other massive feature upgrade is Xbox Live. Altho, not much was spoken about what would change we were told there will be cloud support. To what extent I do not know. . . To accompany the upgrade in Live and the new features of the console Xbox Live will jump from 15,000 worldwide servers to over 300,000 worldwide servers! A massive jump, so there must be something big, like streaming videos and such, that wasn't entirely touched on.
When it comes to games we saw a short video from EA about their new Ignite technology. It sounds like it will change sports games as we know it, but we'll have to wait and see. Also, we were teased with short CG trailer for Forza Motorsport 5 and Quantum Break. Not sure what Quantum Break really is, but the trailer showed some things breaking. . .
And to cap it all off we were given a behind the scenes look at Call of Duty Ghosts, as well as a nice trailer and some hype. Also the news that all Call of Duty DLC will debut on the new Xbox One console before it hits anywhere else.
All in all, it was ok. While the console was actually shown, something the Sony press conference took a lot of flack for, it was unimpressive. The console itself is little more then a black rectangle. It looks remarkably like a standard set-top box you'd get from your cable provider. Maybe that's the point. On top of an unremarkable design, there was little shown off for the console besides it's integration with Kinect. While the new kinect is impressive, it's certainly not a system seller. Lastly the games shown off during the conference did not appeal to me in the least. I'm not a sporty person, never was, so the bulk of this show was actually boring to me. Of the other two games displayed Call of Duty Ghosts seems like it's the most interesting, but even still not something I'd put at the top of my must have list. And Quantum Break. . . What the hell is it? I mean, teasers are cool. But when it comes to revealing your big new console, we need gameplay! Not a teaser.
Ah well, still fairly unimpressed by anything revealed by Sony and MicroSoft. We'll just have to wait till E3 to see more I suppose.
Until then, keep your eyes on One-Quest and we'll keep you up to date if anything interesting leaks!
02:04pm by Eric
And that concludes the show. . .
02:04pm by Eric
Beautiful scenery and a haunting soundtrack. Call of Duty Ghosts looks pretty cool.
02:01pm by Eric
Here comes the gameplay footage.
01:57pm by Eric
A brand new engine is ebing used for Call of Duty Ghosts.
01:56pm by Eric
Call of Duty Ghosts will have an epic, emotional story. And one of your Squad mates is a Dog.
01:53pm by Eric
All Call of Duty DLC will launch on 360 first. . .
01:53pm by Eric
Maybe some in game footage, and not a trailer.
01:53pm by Eric
Closing with a trailer for Call of Duty Ghosts.
01:52pm by Eric
Xbox One launching this year.
01:47pm by Eric
Halo TV series is inbound.
01:46pm by Eric
Stephen Speilberg on a video to talk about a Halo project.
01:46pm by Eric
Halo TV series?
01:45pm by Eric
Bonnie Ross of 343 industries on stage to talk Halo.
01:44pm by Eric
immersion?
01:44pm by Eric
Nany Tellam on stage to talk about TV and it's immersiveness.
01:42pm by Eric
15 Exclusives published by Microsoft int he first year. 8 of which are new franchises.
01:41pm by Eric
This is by Remedy, the team behind Max Payne. Trailer shifted to in game footage showing things breaking. . .
01:40pm by Eric
Quantum Break is being debuted with a live trailer.
01:38pm by Eric
Forza 5 coming to Xbox One. No surprise here.
01:36pm by Eric
Sports over. Phil Specner on stage now.
01:28pm by Eric
Andrew Wilson of EA takes the stage to talk Sports.
01:27pm by Eric
Xbox One offers video uploads and streaming, like PS4.
01:27pm by Eric
300,000 Servers will power Xbox Live on Xbox One.
01:25pm by Eric
There's an actual D-Pad! FINALLY!
01:23pm by Eric
New Kinect comes with every Xbox One. Can now read at 1080p.
01:22pm by Eric
Xbox One will run 3 different Operating Systems. Xbox, Windows, and a combo. . .(?)
01:21pm by Eric
Bluray player as well.
01:21pm by Eric
8GB of RAM, 8core CPU, etc. etc.
01:20pm by Eric
Marc Whitten takes the stage.
01:17pm by Eric
Xbox One will track your Fantasy sports leagues for you. It will even provide notifications when their stats update.
01:14pm by Eric
Xbox One can "Snap" multiple programs on screen at once. Example: Watch a movie, and open Internet Explorer.
01:13pm by Eric
Switching between TV, games, music, and over features of Xbox One is nearly seamless!
01:12pm by Eric
Kinect can swith to your television simply by stating "Xbox Live TV." A nice way to get around switching inputs.
01:11pm by Eric
Kinect will always be on and able to activate the console at any point in time. Simply say "Xbox On" and the console will activate. It will also know who told the console to turn on and login to their personal account.
01:10pm by Eric
Yusef Medhi takes the stage to tell us about the device itself.
01:09pm by Eric
Plenty of straight lines in the design. It looks a lot like a standard Set-Top box for your TV.
01:08pm by Eric
It's a black rectangle. . . Uh oh. . . Looks a lot like those blurry PS4 images we saw.
01:07pm by Eric
X-Box One. . . that's the name.
01:03pm by Eric
Don Mattrick takes the stage to talk us up.
01:02pm by Eric
Start up with a hype trailer.
12:57pm by Eric
Less than 5 minutes remaining till the start of the event! Here we go!
12:01pm by Eric
Well. . . We've got about an hour till the event starts. Sorry, got our times a little mixed up. Check backs soon for the full set of updates.