Posted By
Chris
on August 29, 2013 at 11:26 am in
Video Games
Wii U Price Cut And Release Dates!
---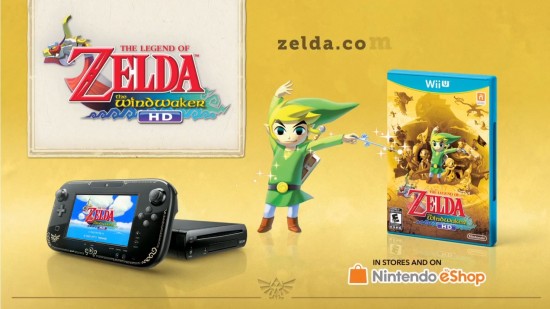 Yesterday we found out about the new 2DS model of Nintendo's popular handheld, and today we get some Wii U price cut news! If you've been holding off on the Wii U for some odd reason, now looks like as good a time as any to pick one up. Nintendo just recently announced that the system will be dropping in price. From $349.99 down to $299.99, which while it may not seem like a huge jump, means you can easily pick up a Wii U and a game for the price of the original system.
Oh wait it gets better, the Wind Waker HD bundle will be the same price! Yep that's right if you're one of the many Zelda fans out there who wants to play the popular Gamecube title in HD, you can pick up the console and digital copy of the game together, along with a special Zelda themed Gamepad and digital copy of Hyrule Historia for $299.99.
Nintendo has been getting some heat lately about the Wii U, and it's relative lack of games, well it looks like that's all changing. To go along with your new cheaper console purchase you can pick up a veritable cornucopia of awesome games. In fact here are some of the newly announced dates for some highly anticipated titles.
Rayman Legends – September 3
Wonderful 101 – September 15(NA)
The Legend of Zelda: The Wind Waker HD – September 20 (Digital)*
Scribblenauts Unmasked: A DC Comics Adventure – September 24
Just Dance 2014 – October 8
The Legend of Zelda: The Wind Waker HD – October 4 (Physical)*
Skylanders SWAP Force – October 13
Sonic Lost World – October 22
Wii Party U – October 25 (with Wii Remote Plus for $49.99)
Assassin's Creed IV: Black Flag – October 29
Call of Duty: Ghosts – November 5
Watch Dogs – November 19
Super Mario 3D World – November 22 ($59.99)
Donkey Kong Country: Tropical Freeze – December 6 ($49.99)
LEGO Marvel Super Heroes – Fall
Mario and Sonic at the Sochi 2014 Olympic Winter Games – Holiday 2013
Wii Fit U – Holiday 2013
*Wind Waker HD is released digitally 2 weeks prior to the physical game.
So for all you Wii U naysayers out there, how about that? Finally enough reason to pick one up? let us know yours thoughts in the comments!