Posted By
Eric
on October 4, 2012 at 10:46 am in
Quest Log
,
Video Games
The Tyranny of King Washington
---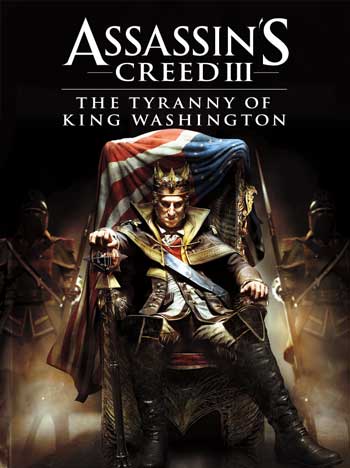 How big is Assassin's Creed III going to be? Well, with less then a month to go before the release of Assassin's Creed III, Ubisoft is still throwing new information at us!
The newest, and one of the most interesting, announcement comes in the form of upcoming DLC for Assassin's Creed III. I usually don't get on board for DLC, especially if it's announced before the game even hits shelves. However, there's something interesting about this one.
As it turns out, our first President wasn't as modest and humble as we had all be taught in school. According to this universe General George Washington succumbs to power and becomes King of America, and it's up to Connor to stop him. M. Night Shamalyn couldn't come up with a better twist on American history!
The story will take place over 3 DLC packs, released separately. You can buy the ACIII Season Pass for $30, which includes all of the ACIII DLC. According to Ubisoft that's a 25% discount on the Assassin's Creed III DLC, which also includes some multi-player packs.
This sounds wicked awesome! I don't usually do this, but the DLC season pass is an insta-buy for me! Let us know what you think about sqauring off agains a Tyrannous George Washington in the comments below!