Posted By
Chris
on January 11, 2013 at 2:52 pm in
Take It Or Leave It
Take It Or Leave – January 9, 2013
---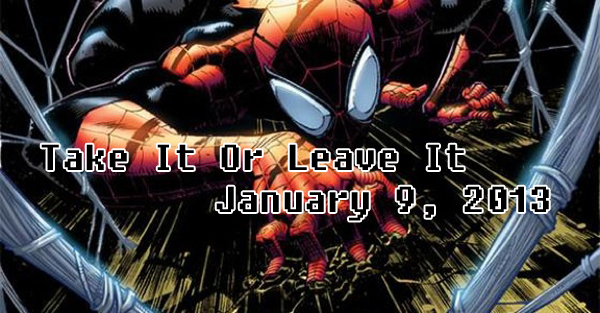 Welcome to Take It Or Leave It, where each week we pick out some of that week's newest comics and give you our opinion on whether it was worth the price and you should take it, or if it was better left sitting on the shelf.
This week is a bit small, wasn't a lot released that really caught my attention but, their were a few big names dropping this week like the first issue of Superior Spider-Man, Scarlet Spider, and Fantastic Four. But we've got some books to talk about so lets get started!
As always, the list is alphabetical by publisher.
Chris
Frankly this wasn't a great week for comics, not a lot that I was interested in came out, and while my list is pretty split with likes and dislikes, I felt like I was more disappointed than usual. All is not lost though, next week has some pretty big releases like Batman and Saga so one bad week followed by those kind of books I can deal with!

---

Repossessed #1
I read this on a whim, didn't really know what it was or anything. It was a pretty pleasant surprise though. It's kinda got like an Angel or Supernatural feel to it where a group of people are going around solving paranormal problems. In this case possessions, and it's not all "The power of Christ compels you" crap either they get pretty brutal with these demons. I wasn't a huge fan of the art at first, but it definitely grows on you as the issue continues. Plus it's only a 4 issue series so no long term commitment necessary, but definitely worth checking out if you want something interesting and new to read.

Verdict: Take It

Score: 7/10

---

Fantastic Four #3
So far I haven't read any of FF, I've been sticking with just Fantastic Four. The first two issues really make you feel like you're missing out on something not reading the other book. Finally in issue 3 we start getting a separate adventure. It wasn't the best issue by far, but Fraction does a really good job of plotting things out over time. This is really one of those books where I'd prefer longer stories and less one-shots so hopefully that's what we start getting. Until then nothing really important happens here, so it's really not an important read. It's a good book, but for the money you're better off leaving it at the store

Verdict: Leave It

Score: 7/10

---

Punisher War Zone #3
I heard a lot of really good things about Greg Ruka's Punisher run, and I liked the opening issue of War Zone. Since then though it's been a disappointment. Last issue was at least more interesting and we got to see Black Widow use her skills to track down Frank, but once she found him it ended with him leading her to his target so she could deal with it. Issue 3 plays pretty much the same way only with Thor and less chasing because he's Thor. And the weird buddy's drinking a few beers thing just didn't seem to flow right. Hopefully this can get tied up well but I'm not holding my breath. If you're super interested in this story wait till the trade, otherwise it's probably worth skipping all together.

Verdict: Leave It

Score: 4/10

---

Scarlet Spider #13
I've I told you how much I love Scarlet Spider? Sure it's had it's up's and downs but what book doesn't? Overall it's been great and it's usually the first or second book I read each time it comes out. We're back to a more 'normal' story now, the wolves are in town and we're starting to learn more about this people trafficking and how Aracely is connected to it. Kaine also appears to be trying harder to be a good guy, which is kinda cool especially with the recent changes over in Amazing Spider-Man/Superior Spider-man. The issue ends on a fun cliffhanger and the next issue just can't come out soon enough.

Verdict: Take It

Score: 8/10

---

Secret Avengers #36
Secret Avengers started out as a really good book, then it went down hill, then it went back up. It's been a roller coaster ride it's entire existence. The current, and final arc by Rick Remender has been really hit or miss. This issue for instant was a miss for me. At this point it's been going on to long and I just don't care anymore. I'm not even sure if I care enough to pick up this title after the relaunch it's just fluxuates in quality to much.

Verdict: Leave It

Score: 4/10

---

Superior Spider-Man #1
Oh boy was this a highly anticipated issue or what. After the world altering events of Amazing Spider-Man 700 people were either excited to buy this and see where the story went or disgruntled and angry and full of hate but still bought it because they're compulsive and can't not own it. Regardless that doesn't really speak much about the issue itself. Superior Spider-Man is a very different book from Amazing Spider-Man, the wall-crawler is no longer the witty Peter Parker. We don't get a hero making jokes about his opponent, we get a 'hero' who straight tells them they're stupid. Overall I enjoyed the book, but it's definitely one you have to read start to finish before making a judgment. Personally I liked the ending, a lot of people are going to immediately jump on the hate wagon though, that's just how this stuff goes. I'm looking forward to see where Slott takes this book, I do hope he gets the supporting cast back into a more. . . stable mindset. They all seem to be looking past the character flaws a lot more than they should and that won't fly with fans for very long.

Verdict: Take It

Score: 8/10

---

Ultimate Comics X-Men #21
I've made it clear that I'm a fan of Ultimate X-Men, since the original run of it in the early 2000's it's been a good book. And usually easier to follow than the 616 mutants are. With Ultimate Comics X-Men things started out good, then got a little to hard to follow. With the switch in creators that was changed and it became more focused. While I like what Brian Wood is doing with the book, I just feel that it's moving a little to slow, this issue especially. Nothing happens till the last couple of pages and it's not really that impressive. Hopefully this is just setup for something bigger, but right now this setup that reminds me of a reality show where all the mutants are stuck in the desert and have to survive is only going to hold people's attention so long. Don't get me wrong, there's great character drama going on right now, but the action and adventure you expect from an X book is sorely missing. Still if you've been reading from the beginning it's worth picking up just to see what the world things of the things that went down in the previous issue. We also get a very brief bit of Jean Grey and a few other familiar faces

Verdict: Take It – If you've been reading

Score: 6/10

---

Wolverine And The X-Men #23
This Frankenstein's Circus story has bored me a bit, when Wolverine and the X-Men started I was really liking, recently though it's losing that interest. The story with Idie feels like it's been going on for just to long, same with the kids of the Hellfire Club. If the book doesn't start moving again it's probably not going to be something I keep following.

Verdict: Leave It

Score: 5/10

---