Posted By
Drootin
on March 23, 2014 at 11:22 am in
The Week In Gaming
,
Video Games
T.W.I.G. 3/23/2014
---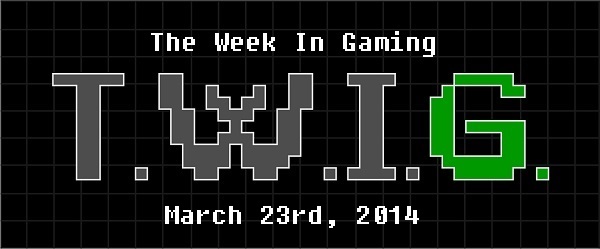 So even with the Game Developers Conference this week there's not a lot of news to report so we will get right to it.
The News:
Magicka creator Arrowhead Game Studios is developing a new game in the Gauntlet franchise. The game is scheduled to release this summer for PC with SteamOS support and both local and online co-op.
Sony has officially announced their Virtual Reality headset called Project Morpheus. The headset will track the users head movements to move the camera, and also they may work in WiiU style asynchronous multiplayer with the player with the headset seeing a different layout than the players who are looking at the TV.
Castlevania creator Koji Igarashi has announced that he has left Konami to form his own studio. No word on what the new studio is or will be working on as of right now.
The new releases:
Diablo III: Reaper of Souls (3/25) – PC
The Witch and the Hundred Knight (3/25) – PS3
Mercenary Kings (3/25) – PC, PS4
Dynasty Warriors 8: Xtreme Legends Complete Edition (3/25) – PS4, Vita
Dynasty Warriors 8: Xtreme Legends (3/25) – PS3
Fez (3/25) – PS3, PS4, Vita