Posted By
Drootin
on November 17, 2013 at 9:02 pm in
The Week In Gaming
T.W.I.G. 11/17/2013
---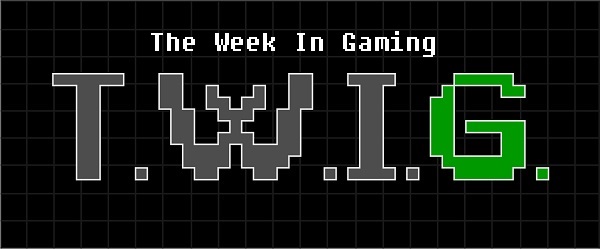 Its Sunday so that means we're ready for our weekly news recap, The Week In Gaming: The extra late because of the PS4 launch edition!
The News:
Fallout 4 might be announced on December 11th. A new website, supposedly registerd by Bethesda, thesurvivor2299.com features simply a countdown clock and morse code for 11-12-13 (the European date format for December 11th). Its not positive that this is set up by Bethesda but there is also no indication that it wasn't so we will likely have to wait until the 11th to find out.
Sony has stated that over 1 million PS4's were sold in the 1st 24-hours after release. No word on further sales from Saturday as of just yet.
4J Studios is attempting to work out a way to make saves from the Xbox 360 version of Minecraft port over to the Xbox One. That will be good news for all the people who have sunk countless hours into the 360 version.
Towerfall: Ascension has been announced for both the PC & PS4. Towerfall is a multi-player bow & arrow game that is the most popular Ouya exclusive game. Ascension is adding 50 new levels, 4 more characters, 6 extra power-ups, and a co-op quest mode. This will be a game I keep my eye on as its release nears, which is currently targeted for next January.
At the PS4 launch event in New York Naughty Dog announced that a new Uncharted game is in the works for the PS4. No word on a full title or a release date but this is exciting news, the Uncharted series was one of the best sets of exclusives to the PS3 and had some of the most impressive visuals, I can't wait to see what Naughty Dog can do with the PS4.
Rayman Legends is headed to PS4 and Xbox One in February 2014. What was once a WiiU exclusive will now have been released on all systems.
Nintendo has announced that in an upcoming system update that the 3DS will be getting access to the WiiU Miiverse and the ability to combine your account balances between the WiiU and the 3DS.
The new releases:
Another big week for new releases as we see the XboxOne and all of its games come out this week:
Xbox One (11/22)
NBA Live 14 (11/19) – PS4, XB1
The Amazing Spider-Man (11/19) – Vita
SoulCalibur 2 HD Online (11/19) – 360, PS3 [Download only]
Tearaway (11/22) – Vita
The Legend of Zelda: A Link Between Worlds (11/22) – 3DS
Super Mario 3D World (11/22) – WiiU
Mario Party: Island Tour (11/22) – 3DS
Crimson Dragon (11/22) – XB1
Dead Rising 3 (11/22) – XB1
Ryse: Son of Rome (11/22) – XB1
Killer Instinct (11/22) – XB1
Forza Motorsport 5 (11/22) – XB1
Lococycle (11/22) – XB1