Posted By
Chris
on March 11, 2013 at 3:17 pm in
Comic Books
Skullkickers Goes Dark This June
---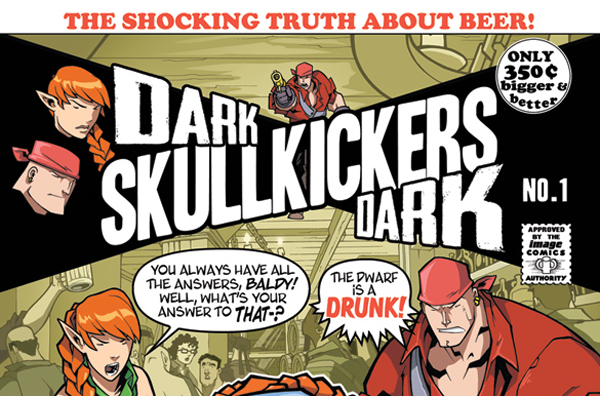 So this summer the Image Comics series Skullkickers, currently called Uncanny Skullkickers after being rebooted from just Skullkickers last month, will be getting darker. Like twice the dark, that's two times more dark than it had before!
You're probably confused, and that's good, it's right where you should be, and as soon as you start to get your senses back go to Comixology or something and buy some Skullkickers it's good, then you can keep reading this article.
Okay did you buy them?. . .
Do you promise?. . .
Alright good. . .
So I'm going to let the official press release from Image say the rest here we go!
A DARKER SIDE OF SKULLKICKERS IN JUNE
DARK SKULLKICKERS DARK #1 is dark, possibly gritty
This June, Image Comics beats a horse to death and you're all invited to watch! It's a new comic that's not new at all… but it is dark. "How dark?" you ask? It's so dark we had to use the word twice – DARK SKULLKICKERS DARK!
"This may be the worst thing we've ever done," said Image PR and Marketing Director Jennifer de Guzman. "It's a pale reflection of the industry's need to spin rebooted series through endless hype, turning the crazed hamster wheel of entertainment promotion until it's fallen apart. Good-bye, integrity."
DARK SKULLKICKERS DARK #1, written by old industry pariah Jim Zub and drawn by young pencil jockey Edwin Huang, wraps up the fourth story arc of SKULLKICKERS, the series people keep saying they've heard about but haven't had a chance to try yet but, dangit, they will at some point if they see the collections on sale or something.
"Fun comic books are a thing of days past," said series creator Zub. "In order to grab a modern audience I've dipped into the darkness of my own heart and spilled my blood upon the pages of this sequential masterpiece. Oh yeah, there's beer in it too."
If you're one of the few and proud collectors of SKULLKICKERS irritated that you won't have a SKULLKICKERS #23 to add to your collection, fret thee not. In addition to the regular "Dark Dark" cover we're offering a special "issue #23 variant" B cover to keep your collection copasetic. We're looking out for you, baby.
We've dug as deep as we can go. We've entered the darkness. DARK SKULLKICKERS DARK #1 will be available in June wherever dark comics are sold. Pre-order it now from the April issue of Previews. Order the old trades too. They're pretty good.

Oh before I go, here's covers A and B for the first issue!