Posted By
Eric
on May 2, 2012 at 12:28 pm in
Video Games
Report: $99 X-box 360 on the way!
---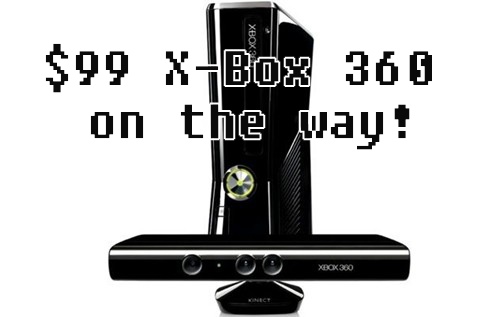 And now that I have your attention, the bad news. According to the verge, the $99 X-box 360 is rumored to come packaged with a mandatory $15/month subscription cost, with 2 year agreement. Top that off with an early termination fee and you have yourself a mobile phone contract! And we all love mobile phone contracts…
However, the bundle is reasonably priced when compared to the current X-box 360 bundles available. It comes with a Kinect (because everyone needs less input), and a 2 year XBL Gold Membership. For those of you that like to avoid contracts you can purchase an X-Box 360 with Kinect and pay yearly for your XBL Gold Membership.
Total cost of Current Bundle: $299 X-Box + $60/year for 2 years = $419
Total cost of $99 bundle: $99 X-Box + $15/month for 24 months = $459
This will make the X-Box far more affordable for many people, including myself. But is a 7 year old console worth signing a 2 year contract for?