Posted By
Chris
on June 29, 2012 at 2:02 pm in
Comic Books
Marvel This is War
---

While there aren't any 'official' details on what 'This is War' means, the most recent image release (which you can see below) makes it pretty obviously that the Punisher is going to be causing problems. Marvel has been releasing teasers for this all week and now we have an interesting little collague, and with this final piece it makes what's going on that much more understandable.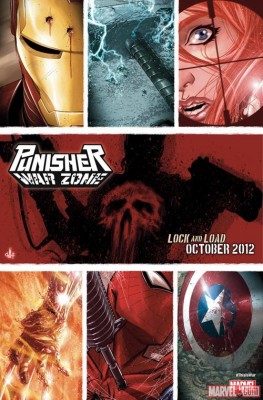 The concern I have is, why do we need another 'event'? AvX isn't even over yet, and they're already talking about something that's going to be happening in October. From the looks of this it probably won't be a big comic book crossover event like AvX or last years Fear Itself. It's probably just going to be a new Punisher series where he goes after heroes that he feels did wrong, because that's never happened before.
Here's hoping they do something interesting with this whole thing, and that my speculations are wrong. We'll have to wait a couple more weeks to find out more. Marvel should be telling us the details at this year's San Diego Comic-Con which runs from July 13-15. Keep an eye out here at One-Quest for more updates on Marvel's 'This is War' and all the other fun news coming out of San Diego.
And for you interested parties, here are all the individual teasers so far