Posted By
Chris
on February 26, 2013 at 2:34 pm in
Comic Books
It's Coming. . . Robyn Hood: Wanted!
---


We've been teased for a while, but it's finally official. Zenescope's hit series Robyn Hood is getting a sequel with with Robyn Hood: Wanted. If you missed the first series, it was a great 5 issue mini-series bringing a new classic character into the Grimm Fairy Tales world.
We're not sure where this series fits with the soon to be released Robyn Hood Vs. Red Riding Hood One-Shot, regardless it should still be a fun ride. Last we saw Robyn she made it back to her world from Myst and set a few wrongs right, and opened up a whole jar of BS to deal with later on. I'm looking forward to seeing more of this series as we get closer to the release in May. For now check out the full press release from Zenescope below, and at the very bottom a special treat.

Zenescope Entertainment Give Fans What They WANTED
Feb, 2013 — Zenescope Entertainment has announced plans for a follow up mini-series to 2012's critically acclaimed hit series Grimm Fairy Tales' ROBYN HOOD. The new series entitled ROBYN HOOD: WANTED will hit shelves May 2013. The original Robyn Hood mini-series was announced last summer to a slew of excited fans, and the press took notice as well. After great reviews and fan support, the iconic new character brought Zenescope into the spotlight with industry-leading cosplayer, Jessica Nigri, portraying the character at New York Comic Con, and Wired.com doing featured interviews and retrospectives on the popular comic.
Robyn Hood: Wanted picks up shortly after the first series ended. Robyn has found her way out of the realm of Myst and back into the modern world. Her unwavering pursuit of justice has taught her enemies not to cross her, and has shown her friends a new level of loyalty.
Series writer Pat Shand had this to say:
"I'm thrilled to return to this character. With "Wanted," we are upping the stakes, introducing some new major threats, and really getting into what makes Robyn tick. I remember describing the series as "Veronica Mars" meets "Game of Thrones," and I think that is truer in this sequel than ever before. Everything is on the line this time around. We're going to see Robyn in a whole new situation which will redefine her in ways that readers will have never imagined."
Robyn Hood: Wanted will be available for order in Diamond's March Previews on shelves next week.
For those who may have missed its original release, the original Robyn Hood mini-series trade paperback will be available on store shelves February 27, 2013.


Here's that treat I promised. First some art from Stjepan Šejić, that's probably going to be a variant cover. It's courtesy of the Facebook page of series writer Pat Shand.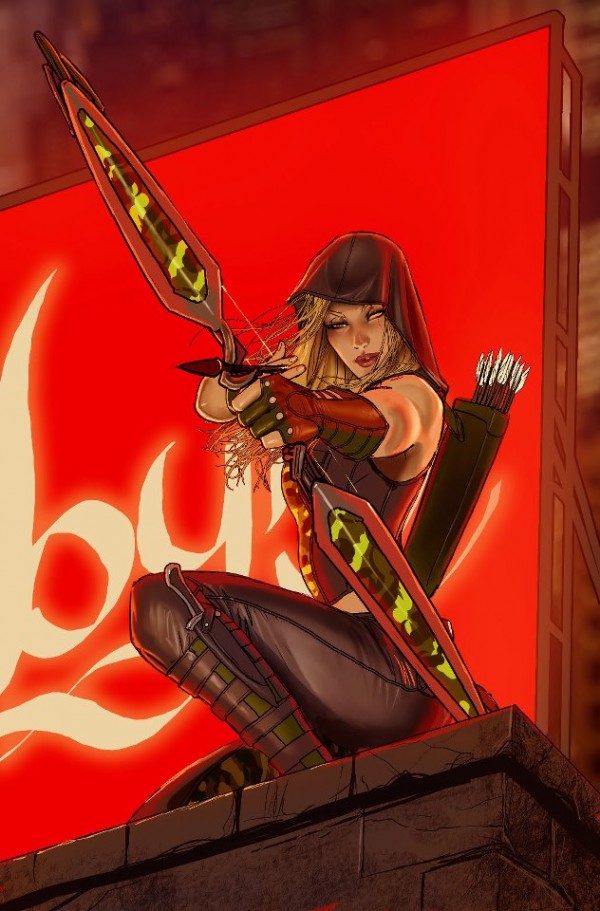 And last we have an Artgerm cover courtesy of Ralph Tedesco's Facebook page.