Posted By
Chris
on December 7, 2012 at 12:00 pm in
Friday Five
Friday Five – Favorite Holiday Specials
---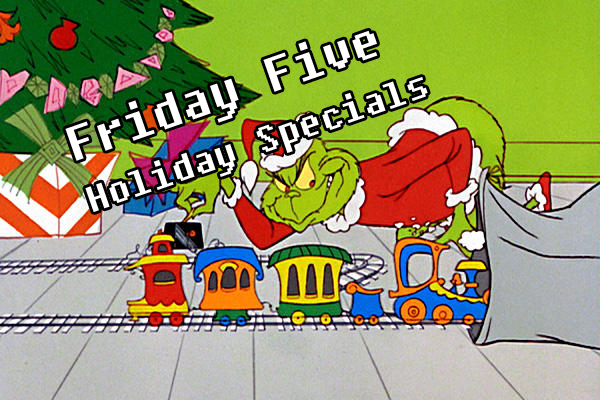 Welcome to the Friday Five. Each week we help you get acquainted with our writers with the help of a top five list. This week we list our five favorite holiday specials.
We're here for your weekly dose of top 5's, it's a little light this time. We've been pretty busy over here at One-Quest with various things, but we'll be back to regular updates in no time! So we're talking favorite Holiday Specials, whether they're TV, movies, whatever. It's pretty obvious we grew up with the Grinch Cartoon, and don't have much faith in the live action from a while back. Otherwise, we've got a pretty diverse list going, so stop reading this and get to the lists already!
Chris
Gremlins – I still know a lot of people that don't realize this is a Christmas movie. And what better Christmas story than the one Phoebe Cates tells about the year her dad dressed up as Santa
A Flintstones Christmas Carol – I'm a bigger fan of the Flintstones version.
Rugrats Christmas Special – That damn brat Angelica gets her Coal in the end!
Home Alone 2: Lost In New York – Home Alone 1 was pretty awesome, but 2 was always my favorite and it's a pretty touching Christmas story too!
How The Grinch Stole Christmas(cartoon) – To hell with the Jim Carey version, while I don't have the hate for it that many others have, the cartoon is the classic and shall never be overshadowed.
Special mention has to go to the Star Wars Holiday Special for being ridiculous and forbidden by George Lucas, but with Disney now owning Star Wars it's only a matter of time before it comes out of the Vault.
Anthony
Bad Santa – Without a doubt the funniest/overall best Christmas movie ever made. For adults.
Futurama – Particularly the first one, Xmas Story, Robot Santa is badass!
It's Always Sunny in Philadelphia: A Very Sunny Christmas – If you appreciate the ridiculousness of this show normally, there's no question you'll love this special.
Hey Arnold: Arnold's Christmas – Reminds me of that night, before the last day of school before the winter break. So much to look forward to, just one last stupid half day and then freedom!
The Year Without Santa Claus – Mr. Snow Miser and Mr. Heat miser, these are easily the best songs out of any of the classic christmas specials.
Walnuts
I love Christmas!!!!!! The movies are the best, presents, and at least for a day most people are cheerful(I said most not all).
Elf – One of the best Christmas movies ever released OF ALL TIME! There is nothing better then this movie.
A Year Without A Santa Claus – I Agree with Anthony on this one, the Heat Miser and Freeze Meiser turn this one into a classic.
How the Grinch Stole Christmas – The cartoon takes all over the live action movie.
Santa Claus is coming to Town – When I think Christmas this movie and the "one foot in front of the other" song with the Winter Wizard always come to mind first.
24 hours of "A Christmas Story" – No Christmas is complete without at least 3 airings of A Christmas Story, and someone non-stop quoting that movie "you'll shoot your eye out!" Good times, good times.
Audra
Muppets Christmas Carol
Mickey's Once Upon a Christmas
A Christmas Story
Home Alone 1 and 2
The Lord of the Rings Trilogy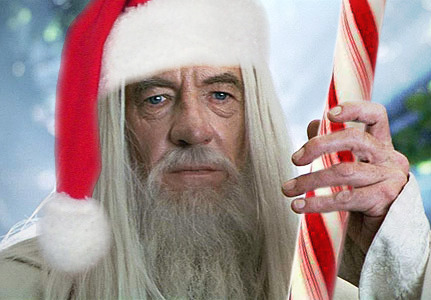 Eric
The classics take the win here.
A Charlie Brown Christmas – My all time favorite Christmas special. I make it a point to try to watch this one every year.
A Christmas Story – Every year I tune into TBS for the 24 hours of A Christmas Story marathon, and I don't think I've ever seen the movie in it's entirety! Regardless, it makes me laugh every time i watch it, and for that it takes the number 1 favorite Christmas movie spot.
Rudolph the Red Nosed Reindeer – The animation is terrible at it's best. The voice actors, aside from the snowman narrator, are all pretty bad. But a story about an underdog saving christmas and getting the girl. That's a story I can get behind! Also, Yukon Cornelius. 'nuff said.
ELF – Ok, the story of Buddy the elf is the most recent addition to my top 5. One of the best Christmas movies in recent years!
Psych: Christmas Joy – This show is generally hilarious, but throw in a bit of Christmas and you have one excellent episode!