Posted By
Eric
on June 8, 2012 at 3:18 pm in
Friday Five
Friday Five: E3 2012
---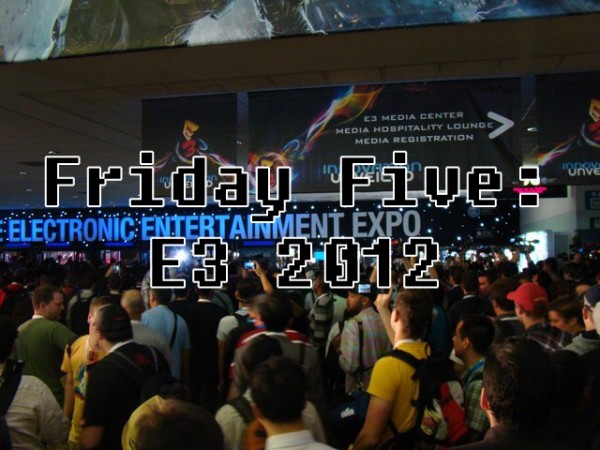 Welcome to the Friday Five! Each week we help you learn more about us with the assistance of a lovely top five list! This week we tackle our top 5 things from E3 2012!
E3 is any gamers dream. It's huge TVs, new unreleased game demos, booth babes, big reveals, awkward business man humor/dialogue, and that annoying person on stage that you just want to shut the hell up! It's also incredibly long lines, and the expense of LA, but hey it's one of the biggest Electronics Conferences in the world. None of us have ever been, but we usually follow E3 very closely. At least, most of us do. Anyway, check out our picks for Top 5 of E3 2012.

Top 5 of the Friday Five!

This is a little out of the ordinary, but it seems fitting since we had alot of repeat content! Here's a collective top 5 picks of E3!
The Last of Us
WiiU
Beyond: Two Souls
Watch Dogs
Tomb Raider and Assassin's Creed III

The Last of Us impressed everyone that watched this year's E3! It took the top spot for every member of One-Quest. WiiU takes second place by being interesting enough that 4 of us have it on our list. Beyond dazzled us, and made it to 3 lists. Watch Dogs, Tomb Raider, and Assassin's Creed III all had 2 votes, but Watch Dogs had higher list placement giving it the number 4 spot. While the others have the same placement on two different lists. Now on to everyone's individual lists!

Drootin
E3 is a crazy time of year for gamers, lots of new trailers, previews, etc. I am excited for lots of what was shown already in the first 2 days.
The Last Of Us – PS3 – This is my game of E3 but it's close. Naughty Dog clearly knows how to make games on the PS3 and truly take advantage of its hardware. I'm just sad to hear that we will be waiting until 2013 to play it.
Watch Dogs – PS3/360, WiiU Rumored – I had to include this, I just watched the Ubisoft press conference again and boy this game looks great. To me it looks like it will likely be a next gen game but we will see. This gives The Last Of Us a run for its money for my best of E3.
Madden NFL 13 – PS3/360 – Yeah, thats right, Madden. I'm a HUGE sports fan, I love sports even more than video games, and I used to be a yearly Madden buyer. I haven't really enjoyed this gens games tho, however EA has overhauled the engine adding real-time physics and doing a totally new commentary team with a redone implementation of how the announcers interact.
Counter-Strike: Global Offensive – PS3/360/PC – I got to see some more gameplay footage yesterday which looked awesome and the game finally got a set August 21st release date, and its only going to cost $15.
Hawken – PC – Free-to-Play 1st person mech shooter that looks fantastic. Looks to have plenty of customization of your mechs that will change how you play game by game. The game goes into open beta on 12-12-12. You can sign up for the closed beta that will start later right now.
Eric
I live, eat, sleep, and breathe video games. I've been playing video games since I was 5, and haven't stopped since. So E3 to me is what the Super Bowl, or the NFL draft, might be to Drootin. I never miss a press conference. I check every different media outlet for new information on a constant basis. I can't get enough of E3, and this year was no different. Sure some of the conferences were mediocre at best, but I still loved them! It's been my dream to attend an E3 conference, and while I haven't be able to attend in person, I'm looking to change that within the next year or two. A heads up: I'm sorry if this one get's a little long winded, I just get really passionate about video games.
The Last of Us – This is my number 1 pick from E3 this year. A lot of people are calling it Uncharted with Zombies, and while there are similarities, it's so much more then that! The Last of Us is heavy on suspense, tension, and action, which is one of the main reasons I loved Dead Space so much. Unfortunately Dead Space 2 dropped a lot of the suspense in favor of a summer blockbuster feel, and this lost some of its' appeal to me. I'm really excited for The last of Us! I can't wait to see what else Naughty Dog has in store for us.
WiiU – I can't just pick one thing about this console to love. I think the MiiVerse is really the best version of online connectivity out of any of the 3 big consoles. It's so easily accessible, and helps you stay connected at all times, even when you aren't on the console! The Gamepad is a modern marvel! It would be nice to see them add multi touch to the screen, but I'm not going to complain if they don't. The built in camera for video chat just seems like an awesome idea, as does the NFC reader/writer. Can you imagine how awesome an NFC Pokemon game would be? If Skylanders can be successful, then so can that! It's also confirmed that we can use 2 Gamepads along with up to 4 WiiMotes or Gamepad Pro's. That's 6 players on one console! Party games, here we come! ZombiU and Arkham City: Armored Edition certainly piqued my interest as well. I loved the way they integrate the use of the Gamepads screen to act as a scanner, radar, inventory screen, and social window to seek tips, and even just to talk with friends. Switching weapons, and leveling up while still seeing the action on screen is just… awesome! Goodbye cluttered huds, hello gaming of the future!
Watch Dogs – This one looks awesome! Ubisoft is creating a fully open world that you can "hack" into. If you watch the gameplay footage you can see that the player was able to disrupt electronics, and even change traffic lights. It just seems really interesting, and I want to know what else Ubisoft has planned for this game.
Tomb Raider – I've been playing Tomb Raider games since the original on PS1. The games did get stale, and were somewhat shallow by the end of the PS1 era, and into the PS2, but I still loved them. I fell off after Angel of Darkness, and kept my distance from there… But that's about to change! This is a reboot of the franchise, now telling an all new origin for our hero, Lara Croft! It looks amazing! Yes it's taking some cues from Uncharted, sure it looks more action packed than previous games, but none of that is worth complaining about! I can't wait to get this one in March!
Assassin's Creed III – Honestly this was the hardest one. There were so many other games to pick, like Splinter Cell Blacklist, but with the exclusion of Michael Ironside it lost some awesome points. On top of that I'm a HUGE Assassin's Creed fan. I love the games, and I really can't wait to see how Desmond's story unfolds in the upcoming title. Also, I'm really looking forward to fighting alongside George Washington!
Honorable Mentions: God of War Ascension, Beyond, Splinter Cell Blacklist, Lost Planet 3, Halo 4, Paper Mario Sticker Star, Castlevania: Lords of Shadow – Mirror of Fate, and Dead Space 3 are also on my radar!
This one's kinda long, but it shows off so many awesome capabilities of the WiiU!
Anthony
I missed like everything from E3 mainly due to stress over a dying vehicle and urgency to replace it. I mean, when you roll up to work 2 hours late on a Monday due to a blown radiator hose, your week is off to a bad start. Shit hits the fan when you find out later that night that your coolant is intermixing with your oil, and unless you replace a head gasket, costing over $1000, your engine is likely to seize up and die in the next few days. I should mention last month I spent $1300 on repairs. As far as I'm concerned I tried one too many times to save that garbage 1999 Honda….Oh yeah E3.
The Last of Us- Although I'm like the only person on Earth that wasn't a big fan of Uncharted, this, Uncharted zombie edition, intrigues me. I should explain I was late to the game and only played the first Uncharted. It was years after it came out, so I guess I was used to way better gameplay by that point. One day I hope to play Uncharted 2 and 3, but also The Last of Us.
Wii U- I've never given up on Nintendo, though the past 2 generations left so much to be desired. I bought a Gamecube at launch and in those days I was very poor. I put my trust in them and I, painfully, watched the console's library get crushed by PS2 and, then newcomer, Xbox. I was mad about it. I couldn't afford another console and I was stuck with this cute little cube with virtually no third party support. Then came the Wii. Just like with this new console, the Wii showed so much promise, heck, it was originally called the Revolution! It gave the promise of revolutionizing games! It did not, and why? Poor third party support! Once again they were crushed by Sony and Microsoft. So here we are 2012, and Nintendo is getting us all pumped again. Leaving me with this, if they deliver on their promise this time around, it will be awesome! I think it could happen now that Nintendo is finally depending on third party development and online gaming. I, however, will not get the system at launch.
Beyond – You can't deny the magnitude of this release, Heavy Rain was so highly recieved I can't wait to see if Quantic Dream can deliver again.
Halo 4 – I'm excited about this from a development standpoint. This is a huge title and its up to 343 Industries to step in and deliver. 343 has already taken over the multiplayer on Halo Reach, which is a lot of fun. To fill the shoes of Bungie is a daunting task, these guys are doing it, and I can't wait to see how this is received, being one of the most fanboyed game franchises of all time.
Fk cars

Walnuts
I love E3, it has to be my favorite time of the year. Learning what is coming out over the next few months and new game tech that is being developed keeps me glued to the TV. This E3 was exciting on a games standpoint, but not really for apps and hardware. I know that Nintendo focused all on WiiU but that was introduced last year and Smart Glass for the X-Box just isn't practical since you need a Windows 8 device to use it. This isnt what I didn't like but what I liked so here we go.
The Last of Us – This game looks amazing, now I'm a sucker for zombies but add the Uncharted feel to it and I'm sold. This is going to be solid, I just hope next year they remember that TV can't have too many curse words said.
X-Box Entertainment – With the addition of twice as many entertainment channels the X-box becomes more of its own entertainment center then many other systems. Being able to watch sports as well as having a system that is multi-lingual that FINALLY has a web browser. Microsoft is finally catching on.
Beyond – I didn't get a chance to play Heavy Rain yet, but Quantic Dream's Beyond: Two Souls looks so good that I'm actually going to drop everything I'm doing to go out and get Heavy Rain… after I get paid.
3DS Lineup – It's about time to get a 3DS if you don't already have it. Luigi's Mansion, Paper Mario, and New Super Mario Brothers 2 are just what was announced in the normal Nintendo conference, and these three games alone are worth the purchase of the 3DS. If that isn't enough you can also try the new Fire Emblem game.
WiiU – The tech demos that Nintendo presented for the WiiU, included: New Super Mario Brothers U, Pikmin 3, and Assassins Creed 3 along with the new MiiVerse and enhanced social capabilities. The WiiU, I feel, will be the trendsetter of the next gen.
Chris
I really don't get to play games nearly as much as I would like, but after this year's E3 there are a ton of things coming that I'm really looking forward to.
The Last of Us – Naughty Dog is a great developer, and this game has looked and sounded amazing since it was first announced. I just wish we would get a solid release date for it!
Beyond: Two Souls – I was blown away by this video and the way it was described. I didn't play Heavy Rain, even though I wanted to, but this game will definitely be something I'm on the look out for when it's released.
Wii U – I was kinda disappointed with the Wii, not because it was bad, just because I didn't get a lot of use out of the titles available. The games that I did play were usually really good! Now the Wii U is looking to be bringing out games that look way better and have some cool innovations. The GamePad is pretty freaking cool too, this may not be a day one purchase but it will definitely be a purchase!
Assassin's Creed III – We've seen a lot of this already, and we already knew it was coming but I'm still excited for it and Liberation for the PSVita looked pretty cool too.
Tomb Raider – I've never been a huge Tomb Raider fan. I thought the last trilogy that came out was actually pretty cool though and with all the videos we've been seeing, especially from E3, I'm really interested in this game.
Honorable Mention for Watch Dogs, this game looked really interesting and had a crazy trailer that seemed like it could have been real!