Posted By
Chris
on June 29, 2012 at 1:38 pm in
Friday Five
Friday Five – Comic Artists
---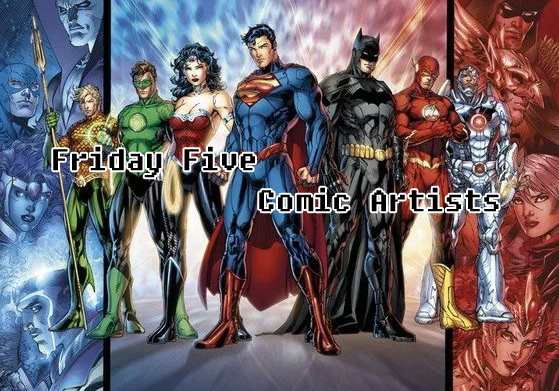 It's the Friday before the Fourth of July, that means most of America will be drunk this weekend while blowing stuff up. So in honor of blowing stuff up we're talking comic books today, because in a comic everything eventually blows up. It's like a Michael Bay movie in (almost) every issue. So lets get to this, today's topic as the image above says is favorite Comic Artists.
I tried to pick artists that noone else would list. Unfortunately Chris and myself read 80% of the same books. We have our own favorites, but we're sure to share some similarities. I also have a preference for style over cleanliness.
Michael Avon Oeming – I LOVE LOVE LOVE a heavy line style within my comics. Thick outline, and outlandish detail always attracts my eye. I first encountered Oeming when I found The Mice Templar on the shelves of my local comic shop. I've been closely following his work ever since!
Mark Bagley – I've mentioned many times that my first ongoing comic purchase was Ultimate Spider-Man. He was the artist for the majority of volume one, and the series really hasn't been the same since he left. Bagley just has an awesome way of expressing emotion in his characters, and that's something other artists haven't been able to pick up on with USM. Sara Pichelli may be the best artist since Bagley left, but she certainly isn't better than him.
Humberto Ramos – Like Oeming, Ramos has a heavy line style and I love it. He also draws some amazing eye catching figures that you'd never expect would work in many books, but just seem perfect for any series he works on. His art in Amazing Spider-Man Big Time is some of the best I've ever seen.
Joe Madeuria – I first laid eyes upon Joe Mads work in Ultimates 3, and it's the sole reasons I loved the book so much. His characters explode off the page with an insane amount of style. His style is very distinguishable in the market, and that's a great thing! Also, he designed the characters for the Darksiders games! :-p
Pia Guerra – I've only read one book by Pia Guerra, Y: The Last Man. Written by Brian K. Vaughn, Y: The Last Man is one of my favorite books, and I feel that it's success is due in large part to the artistic style on the pages. It felt like an old newspaper comic strip in graphic novel form, and it felt perfect for the series. While I haven't read anything else with artwork by Pia, I still find her work to be some of the best I've seen. However, BKV's new collaborative artist, Fiona Staples, is quickly making her way to my top five list with her work on SAGA.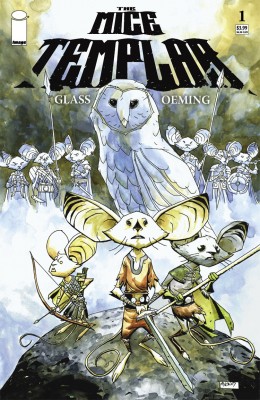 Picking my 5 favorite comic artists was actually pretty hard. My initial list was much longer and I had to whittle it down to just 5.
Humberto Ramos – I didn't know Ramos until he started drawing Amazing Spider-Man. The series has a rotation of artists that work on it and by far my favorite is him. I even made a donation to the Kickstater project for a book he and Paul Jenkins are working on.
Ryan Stegman – I was really excited when I heard they were making a Scarlet Spider book even before I knew who the creative team was. Than I learned it was going to be Chris Yost and Ryan Stegman. I had already known who Yost was but wasn't familiar with Stegman. Now after just a handful of issue on Scarlet Spider I'm a huge fan. Enough so that I'm going to start reading Fantastic Four when he becomes the artist for that in a few issues.
Greg Capullo – Greg Capullo is the only artist on my list that currently works for DC. And not only does he work for DC but he's on by far their best book Batman. There are only 2 reason why Batman is the best title that DC has on the shelves right now and that's Greg Capullo and Scott Snyder.
Joe Madeuria – Like Eric the first time I saw Joe Madeuria's artwork was in the Ultimates and it was amazing. When Avenging Spider-Man was announced with him on art I was really excited and like many people I was disappointed when he left. But there's light at the end of that tunnel, he's supposed to be doing another title that spun out from Avenging so here's hoping. Oh he does some awesome Video Game art too.
Mark Bagley – I first read comics back in the '90s and had no idea who did what. I was a kid and didn't care. I picked up things I liked which at the time were X-Men and Spider-Man because they had the cool Saturday morning cartoons. I didn't read much back then, and didn't follow anything just grabbed random issues here and there. Jump about 15 years and I started to get back into comics thanks to Eric. First thing I did was get issues of Ultimate Spider-Man on his recommendation. I quickly became a big fan of Bagley's artwork and after a while I went back and did some research on the books I use to read and found out that a lot of the Spider-Man books I picked up back when I was a kid were actually drawn by Bagley.