Posted By
Chris
on November 20, 2012 at 2:48 pm in
Comic Books
Five Weapon's New Mini-Series From Image Comics
---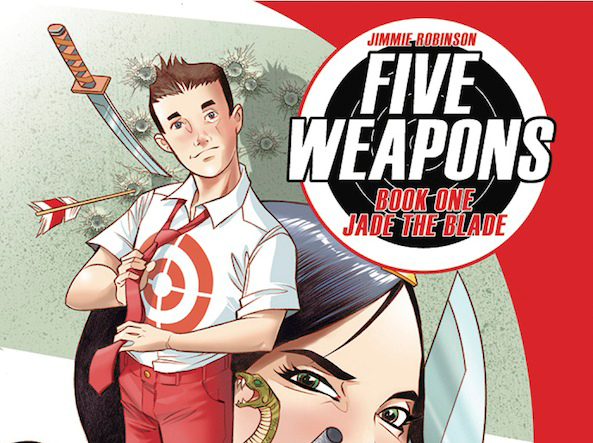 Image Comics and Shadowline have a new 5 issue mini-series coming out in the new year, Jimmie Robinson's Five Weapons. It's your usually story of high school kids trying to figure out life, and make it to the next class. Only well it's a school full of future assassins. And every one of them works at a specific skill set in one of the 5 clubs, which just happen to be clubs based around 5 unique weapons. You've got your knives club, staves club, archery club, exotic club, and gun club. Other than archery these are definitely not what you'd find in your normal high school, I even doubt it's the same kind of archery you'd be learning in your gym class.
The story is about a new student, with a rather famous name who becomes the desire of all of the clubs. He's got to figure out where exactly he fits into this school though, and I'm sure it's not going to be easy on him, no matter who his family may be.
From the promotional art, and preview over at CBR it looks like this is going to be pretty interesting. Plenty of action, but a lot of comedy too which is always a good mix. The first issue is due to hit shelves on February 27, 2013 so make sure to tell your local comic shop to order you a copy.
Below is the promo art, and the full press release from Image Comics
FIVE ISSUES ABOUT FIVE WEAPONS
Education for assassins in new Shadowline mini-series
When the world's deadliest, stealthiest, and most infamous assassins need a place to educate their children, an institution that respects and upholds their values, they turn to the prestigious School of Five Weapons. At the setting of the new Image Comics/Shadowline mini-series by Jimmie Robinson (BOMB QUEEN), FIVE WEAPONS, students train in the martial arts, pledging their loyalty to one "club": Knives, Staves, Archery, Exotics, and Guns.
The School of Five Weapons is turned upside down when a new student arrives, one carrying a name that all the students and teachers know: Shainline. The clubs vie for Tyler's loyalty, but it becomes apparent very quickly that this kid isn't someone who is easy to pin down. Tyler has just the edge he needs to succeed at Five Weapons — a razor-sharp mind!
Robinson writes and draws FIVE WEAPONS, and his clean, lively art is colored by Paul Little. The mini-series has the same mischievous tone as Robinson's series BOMB QUEEN but was created for a wider audience, as the "T" (teen) rating indicates.
"I wanted fun with an edge, but I also wanted Five Weapons to be smart and challenge the reader," said Robinson. "While there are plenty of weapons to be found in the pages, there is also an invisible sixth weapon between the panels: the skill of the human mind."
Comic Book Resources featured a four-page preview of the first issue of the series.
The showdowns are epic, the secrets are dark, and FIVE WEAPONS is insanely fun. The first, 32-page issue can be pre-ordered from the December issue of Previews and will be in stores on February 27.