Posted By
Eric
on August 24, 2012 at 10:52 am in
Video Games
Behind the Scenes: Assassin's Creed III and Star Wars 1313
---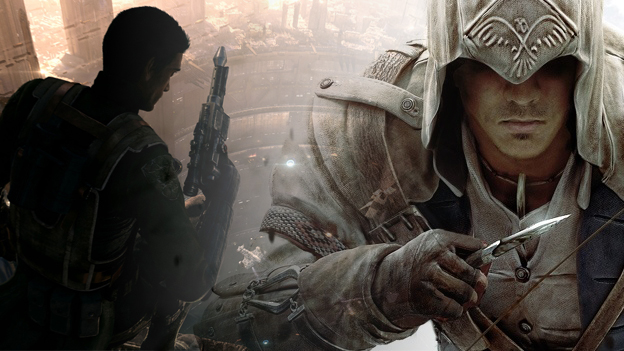 I'm not usually one to watch behind the scenes features. I generally feel it takes the magic away from the final production. However, in some rare instances I've been known to sit through a few hours of "Making Of"s, usually for movies and games that I just can't get enough of. One of these such instances would be Assassin's Creed III.
At the moment I'm practically foaming at the mouth in anticipation for Assassin's Creed III. I really can't help myself here. I am one of 3 people that I know that actually finished the entirety of the first game. Despite it's repetitive nature, I saw considerable value in the games narrative, pressed onward, and much to my avail I was met with an incredibly satisfying cliff hanger ending. It left me wanting more so bad that I actually spent days researching the different cities, cultures, myths, and even the Templar themselves. Assassin's Creed is one of those very select few franchises that sucks me in to the point that while I'm away from it I still spend a considerable amount of time thinking about it.
It looks like I'm not the only one that feels this way about Assassin's Creed, and Ubisoft knows this. They've decided to release some short behind the scenes videos about their upcoming epic, Assassin's Creed III. These videos are to help us understand how much painstaking research went into creating, not just ACIII but, the entire AC franchise. I encourage you to sit back and enjoy Inside Assassin's Creed III.
It looks great, and I can't wait to see more from the team! But, that isn't the only game on my radar. Flying in rather low, and keeping a safe distance from the ever present prying eyes of Nerds is Star Wars 1313. There is no projected release date or even a window, and we've only seen a very, very small portion of the game thus far, but it looks beautiful! The best I can liken it to is a cross between Uncharted and Star Wars: Bounty Hunter. To make sure the lack of credible information available on the game doesn't force(see what I did there?) fans to lose interest, Lucas Arts has also released the first in a series of behind the scenes videos for 1313.
While this game world doesn't yet seem as compelling as that of the AC franchise, it certainly seems to have the potential. It also doesn't hurt that it looks like the best use of the Star Wars franchise as a video game since Knights of the Old Republic. Don't pretend like you aren't disappointed! We both know you thought I was going to say Star Wars Kinect. Check out Decent to the Underworld.
Don't forget to tell us what you think, and what other games you might want to see some behind the scenes footage from in the comments below!